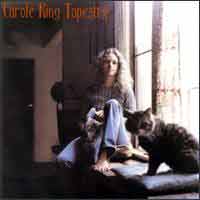 Voilà, another record, another (light) review. This could figure between my all-time ten fav' records. here you will find a real review (Wilson&Alroy... I don't like all they say but this one's pretty fair).
So, first Carole King. This is a great lady. (First she's beautiful). She has a great voice and I love the way she works it, the way she uses it. The lady is also a huge composer. Just look: in tapestry alone you can find almost as many hits as songs.
Now the record. If you should have just one King's record, it has to be Tapestry. It's better than a best of. (I tell you right away, it's my only record of her... I heard here and then some songs, many actually but there's no other work I can say ''This is a great record'', or ''I like every song on that record'').
The sound: you have a great great artist at the acoustic guitar on some of the songs, James Taylor (and also in the vocals on some songs). The entire record has a soft, mellow acoustic sound, just great. (Unless you're a heavy-metal addict... ; ) but c'mon, I love it and... I also like AC/DC...)

Just give it a try. I'm sure you won't be deceived.